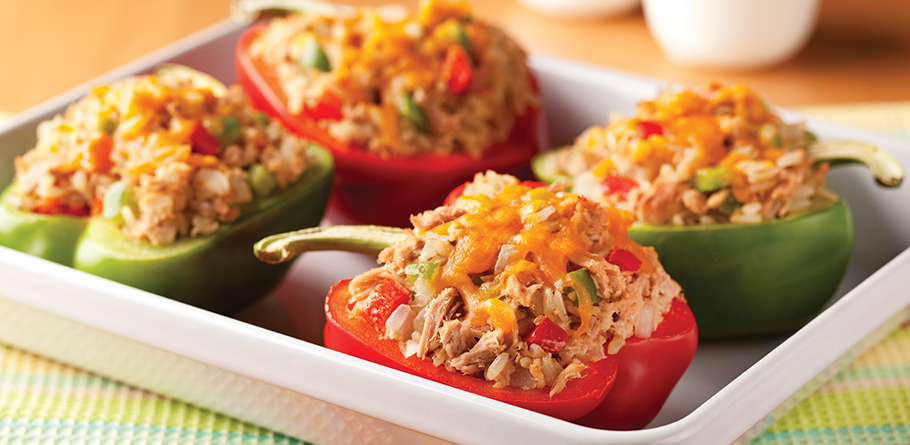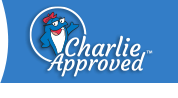 Here's another healthy alTUNAtive that's bound to be a new family favorite. In our Tuna Stuffed Peppers, we swap out the ground beef for Chunk Light Tuna with plenty of added herbs. Top them with cheese for a melty and delicious finish.
Ingredients:
1 (11 oz.) Pouch - Chunk Light Tuna in Water
6 peppers, red and green
1 cup chopped onions
1 clove garlic, minced
1 Tbsp. olive oil
1⁄2 tsp. oregano
1 tsp. parsley
11⁄4 cups cooked brown rice
Salt and pepper
1 cup Cheddar cheese
Directions:
Preheat oven to 350°F.
Cut tops (~1⁄3) off the peppers and clean out the interiors. Cut the stem from the top of the pepper (discard the stem) and cut the remaining pepper from the top into small dices.
Reserve the bottom 2⁄3 of each pepper for stuffing.
Heat olive oil in large skillet over medium heat. Stir in onions, garlic and diced pepper and cook until onions and peppers are soft, about 5 minutes. Add oregano, parsley, salt and pepper, tuna and rice. Mix to blend well.
Stuff peppers with mixture. Place in 8" x 8" square baking dish.
Bake in preheated oven for 15 minutes. Top with cheese and bake for 5 additional minutes to melt the cheese.
Recipe Nutrition Information
When using 1 (11 oz.) Pouch - Chunk Light Tuna in Water
Nutrition Info
Servings Per Container: 6
Serving Size: 1 pepper (287g)
Amount Per Serving
DV%*
Calories
120
Total Fat
1.5g
2%
Saturated Fat
1g
5%
Trans Fat
0g
Cholesterol
25mg
8%
Sodium
400mg
17%
Total Carbohydrate
19g
6%
Dietary Fiber
5g
20%
Total Sugars
5g
Protein
20g
Vitamin A
6%
Vitamin C
190%
Calcium
10%
Iron
8%
*The % Daily Value tells you how much a nutrient in a serving of food contributes to a daily diet. 2,000 calories a day is used for general nutrition advice.