Charlie's Favorite Moments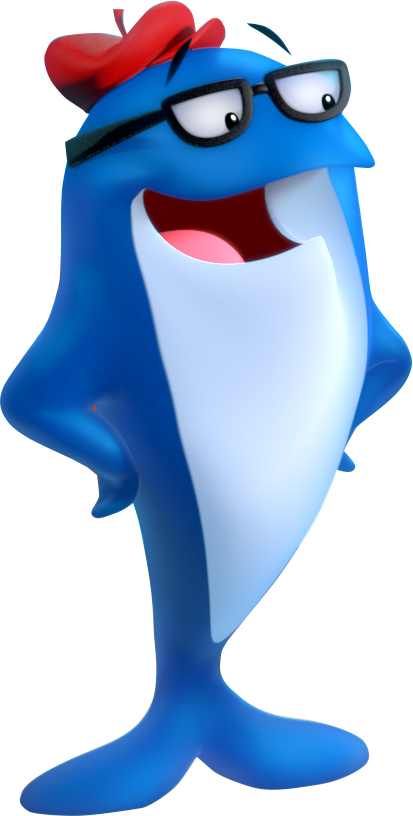 Hey, it's a status thing.
Born in a Chicago ad agency, I've been lending a fin to the good folks at StarKist® as their official spokes-fish for 50+ years. Here are my all-time favorite StarKist® memories.
2020
Launch of Creations Microwavables®

They said it couldn't be done, but StarKist did it deliciously when they launched pouches with tuna, vegetables and hearty grains that you can heat in the microwave.
2019
Funko Pop Charlie®

You know you've arrived when you get your very own Funko Pop! It was amazing to join Funko's family of pop culture ad icons. And they totally nailed my good side!
2018
Launch of Chicken Creations®

Tear. Eat. Chicken?! You got that right! Fans couldn't get enough of our ready-to-eat no-drain Tuna Creations® pouches which got us thinking: why not try 'em with chicken?
2017
Charlie® Welcomes Candace Cameron Bure to the StarKist® Family

I made a new friend this year, and I liked her so much that I asked her to join the family! Introducing Candace Cameron Bure: successful wife, mom, actress, author and queen of multi-tasking. Candace fuels her on-the-go lifestyle with StarKist Creations® pouches – just tear, eat and go!

Charlie® Goes to the Big Apple Lights, Camera, Action!

It's been a big year! I was nominated for Advertising Week's 2017 Madison Walk of Fame alongside some of the most legendary mascots in the business. Like fine wine, I keep getting better with age.
More in 2017
StarKist® Celebrates 100 Years

StarKist celebrated 100 years as America's most trusted seafood brand! Here's to another 100 years of innovation in the portable protein industry and beyond!
2016
Back to the Small Screen

I've got plenty of heart, but StarKist® wants tuna that's good for your heart not with heart. So it's another 'Sorry Charlie®!' for me but plenty of great tasting Tuna Creations® and Salmon Creations® for you.
2015
Museum of Broadcast Communications

I've been working for years to earn respect. And I finally got it when I joined my friends the Jolly Green Giant®, Morris the Cat and Ronald McDonald® in being honored with a special exhibit called "Salute to Advertising's Greatest Icons" at the Museum of Broadcast Communications. The good folks at StarKist® even shared a bunch of my memorabilia that is currently on display at the museum.
2011
50th Birthday

The Big 5-0 and I swear I haven't aged a day. What can I say? Tuna is one healthy fish.

Happy Birthday Charlie®

Take a swim down memory lane with this video highlighting my first 50 years with StarKist®.
2010
In the Bright Lights!

StarKist® Headquarters on Pittsburgh's Northside unveiled a giant lighted sign featuring me! Bright idea StarKist®!
2004
Walk of Fame

I battled fin-to-fin with other iconic mascots when I was named part of the Advertising Week Walk of Fame on Madison Avenue in New York City.
2003
Swimming the Red Carpet

Ready for my close up! I swam down the red carpet at the first annual TV Land Awards®.

Rebel Without a Cause

Actress Maila Nurmi, best known as 50's television hostess Vampira, claims that actor James Dean created the original sketch of me on a napkin at Googie's on Sunset Strip! Her claim is just one of the many mythical legends surrounding my rise to fame!
1999
Charlie's® Back in the Spotlight

After a brief hiatus, I swam back to TV better and fitter than ever to introduce StarKist's® innovative flavor fresh pouch®.
1996
Where are my fin-tip shoes?

I grabbed my power suit, power tie and laced up my finest fin-tip shoes when I rang the bell on the Wall Street Stock Exchange.
1991
Premia

In test markets I was introduced to a new love interest - Premia. She helped launch StarKist's® premium Chunk Light Tuna. After a brief relationship we swam our separate ways. But don't you worry! There are plenty of fish in the sea for good old Charlie®!
1990
Dolphin Safe

StarKist® is all about keeping my finned friends safe. They were the first company to introduce "Dolphin Safe" Tuna.
1984
#1

I helped StarKist® officially become the number one brand of tuna. Ninety percent of consumers recognized our "Sorry Charlie®" advertising. Just like StarKist®, our consumers have good taste!
1962
Sorry Charlie®

Just one year after my debut "Sorry Charlie®" had already become a part of the American lexicon. I'm surprised it took that long. The quote has gone on to become one of the most popular and recognizable phrases in American pop culture.
1961
Tuna that tastes good!

Leo gave a call over to his animation friends at DePatie-Freleng Enterprises. They immediately thought of me! We worked hand in fin on an animated commercial featuring me, Charlie the Tuna™! Some people think my voice sounds a lot like the actor Herschel Bernardi. We both sound Brooklyn street savvy with a side of Broadway culture. Voice over artist, Danny Dark, "The King of Voice Over Artists," was cast as the narrator, uttering his famous line "Sorry Charlie®, StarKist® doesn't want tuna with good taste, but tuna that tastes good!".
1958
Fishy

StarKist® hired advertising legend Leo Burnett to develop a new campaign to "establish a quality image for StarKist® tuna and distinguish it from its main competitor." Leo did his research and discovered a simple truth: Consumers want tuna that tastes good. They don't like tuna that tastes "fishy."