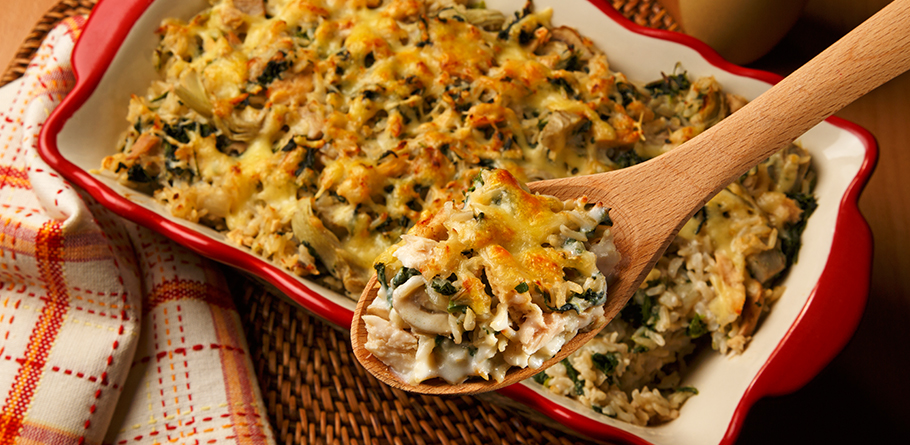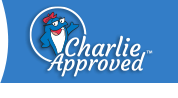 Get your veggies on with this healthy casserole – even the kids will love it! Our Tuna Spinach & Artichoke Casserole uses Low Sodium Albacore White Tuna with brown rice, spinach and artichokes in a light and flavorful white sauce.
Ingredients:
2 (2.6 oz.) Pouches - Low Sodium Albacore White Tuna in Water
2 cups cooked brown rice
1 package frozen chopped spinach, thawed and squeezed dry
1 package (9 oz.) frozen artichokes, thawed and drained
1 tsp. canola oil
1⁄2 sweet onion, diced
2 tsp. minced garlic
4 oz. sliced mushrooms
2 Tbsp. unsalted butter
2 Tbsp. flour
11⁄2 cups skim milk
1⁄4 cup grated Swiss Cheese plus 2 Tbsp.
1/4 - 1/2 tsp. ground nutmeg
ground black pepper, to taste
Directions:
Preheat oven to 350°F.
Mix tuna, rice, spinach and artichokes together in medium bowl.
Heat canola oil in medium non-stick frying pan. Add onion and garlic and cook until onion is just soft. Add mushrooms and cook until tender. Add to tuna and rice mixture.
In same frying pan, melt butter. Whisk in flour and cook on low heat for a minute. Gradually whisk in milk and stir until thickened. Whisk in cheese and stir until melted. Add nutmeg and pepper and mix well.
Stir milk mixture into tuna mixture and combine well. Pour into a 11⁄2 qt. casserole dish and bake for 20 minutes. Sprinkle with the remaining 2 Tbsp. cheese and broil until cheese browns.
Recipe Nutrition Information
When using 2 (2.6 oz.) Pouches - Low Sodium Albacore White Tuna in Water
Nutrition Info
Servings Per Container: 6
Serving Size: 272g
Amount Per Serving
DV%*
Calories
250
Total Fat
8g
12%
Saturated Fat
4.5g
23%
Trans Fat
0g
Cholesterol
30mg
6%
Sodium
140mg
6%
Total Carbohydrate
27g
9%
Dietary Fiber
4g
16%
Total Sugars
4g
Protein
15g
Vitamin A
30%
Vitamin C
4%
Calcium
20%
Iron
6%
*The % Daily Value tells you how much a nutrient in a serving of food contributes to a daily diet. 2,000 calories a day is used for general nutrition advice.