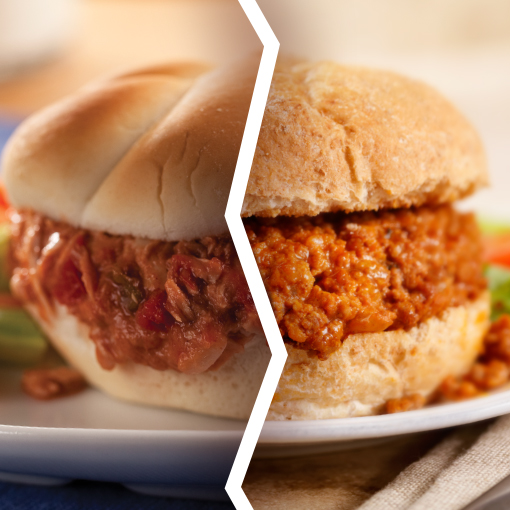 Sloppy Charlies Vs. Sloppy Joes
| TUNA | VS. | BEEF |
| --- | --- | --- |
| 250 | Calories | 320 |
| 3g | Total Fat | 8g |
| 0.5g | Sat. Fat | 2.5g |
| 15mg | Cholesterol | 40mg |
| 1180mg | Sodium | 1090mg |
| 42g | Total Carbs | 42g |
| 14g | Protein | 18g |
What is an alTUNAtive?
Tuna is an incredibly versatile protein and can be swapped for other proteins. It works well in many of your favorite recipes and can be a great way to lower the fat and cholesterol and add those heart healthy omega-3's to your favorite recipes.
Tuna is also a great way to "mix it up" a bit! It's a nice way to jazz up your recipes and add some fun flavors to your favorite dishes.
We've shown you some examples of how the nutritional profiles* and flavors change with some of our favorite recipes. Now it's your turn! Share your favorite alTUNAtives with us — we love to see your creativity!
Complete Nutritional Information
| TUNA | VS. | BEEF |
| --- | --- | --- |
| 250 | Calories | 320 |
| 3g | Total Fat | 8g |
| 0.5g | Sat. Fat | 2.5g |
| 15mg | Cholesterol | 40mg |
| 1180mg | Sodium | 1090mg |
| 42g | Total Carbs | 42g |
| 14g | Protein | 18g |
Serving Size (180g)
Recipe based on comparison of tuna and 10% lean ground beef, pan browned.
Nutritional comparisons are done using the same recipe only with the tuna swapped for the alternate protein. No other changes to the recipes were made so the comparison would be as accurate as possible. All nutritional analyses are completed using Genesis SQL Version 9.7.2.
Have a little fun with the family dinner tonight!
Ingredients:
1 (12 oz.) Can - Chunk Light Tuna in Water, drained
1⁄2 small onion, chopped
1 tsp. canola oil
1 can (15.5 oz.) Sloppy Joe sauce
6 buns
Directions:
Heat oil in large frying pan. Stir in onion and cook over medium heat for 5 minutes.
Stir in Sloppy Joe sauce and heat for 1 – 2 minutes. Add tuna and heat through.
Place tuna and sauce on a bun and enjoy!
Recipe Nutrition Information
When using 1 (12 oz.) Can - Chunk Light Tuna in Water
Nutrition Info
Servings Per Container: 6
Serving Size: 1
Amount Per Serving
DV%*
Calories
250
Total Fat
3g
5%
Saturated Fat
0.5g
3%
Trans Fat
0g
Cholesterol
15mg
5%
Sodium
1180mg
49%
Total Carbohydrate
42g
14%
Dietary Fiber
1g
4%
Total Sugars
19g
Protein
14g
Vitamin A
30%
Vitamin C
4%
Calcium
6%
Iron
20%
*The % Daily Value tells you how much a nutrient in a serving of food contributes to a daily diet. 2,000 calories a day is used for general nutrition advice.