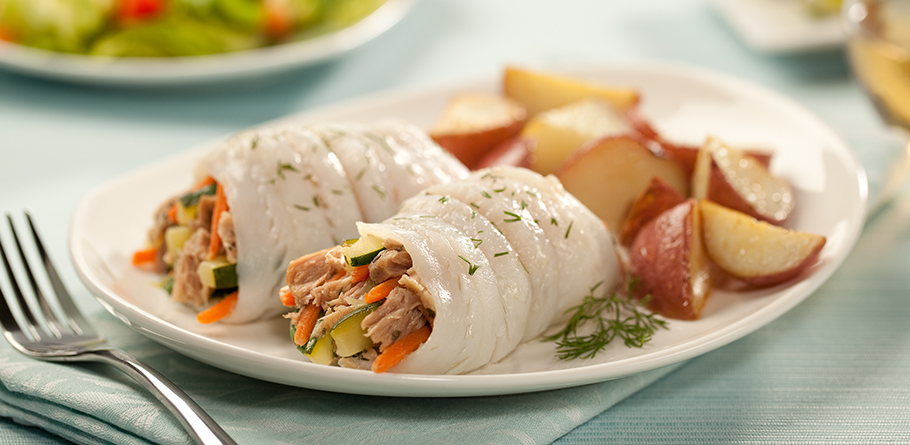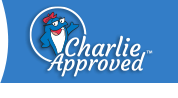 This restaurant style entrée will make your guests think you slaved away in the kitchen; only you will know it took less than 30 minutes to make!
Ingredients:
2 (4.5 oz.) Cans - StarKist E.V.O.O.® Solid Yellowfin Tuna in Extra Virgin Olive Oil, chunked
1⁄2 cup matchstick carrots
1⁄2 cup zucchini cut into matchstick size pieces
2 scallions, cut into strips
2 Tbsp. lemon juice
1 tsp. dried basil
1⁄2 tsp. dried dill weed
8 thin sole or other white fish fillets
16 large spinach leaves, washed
3 Tbsp. lime juice
Directions:
In a 1-pint microwaveable bowl, combine carrots, zucchini and scallions. Cover with waxed paper and microwave on HIGH for 2 – 3 minutes, or until tender.
Stir in tuna, lemon juice, basil and dill. Arrange 1 sole fillet on microwaveable roasting rack or plate.
Top with 2 spinach leaves, overlapping if necessary. Spoon equal portion of the vegetable and tuna mixture over each fillet; roll up each fillet from short side, enclosing filling. Secure with wooden toothpicks; place in shallow microwaveable dish.
Cover with plastic wrap that is vented. Microwave on HIGH 8 – 10 minutes or until fish flakes easily, rotating dish once during cooking. Remove toothpicks and drizzle with lime juice.
Recipe Nutrition Information
When using 2 (4.5 oz.) Cans - StarKist E.V.O.O.® Solid Yellowfin Tuna in Extra Virgin Olive Oil, chunked
Nutrition Info
Servings Per Container: 4
Serving Size: 2 fillets
Amount Per Serving
DV%*
Calories
290
Total Fat
9g
14%
Saturated Fat
2g
10%
Trans Fat
0g
Cholesterol
110mg
37%
Sodium
310mg
13%
Total Carbohydrate
5g
2%
Dietary Fiber
1g
4%
Total Sugars
2g
Protein
44g
Vitamin A
60%
Vitamin C
20%
Calcium
4%
Iron
6%
*The % Daily Value tells you how much a nutrient in a serving of food contributes to a daily diet. 2,000 calories a day is used for general nutrition advice.