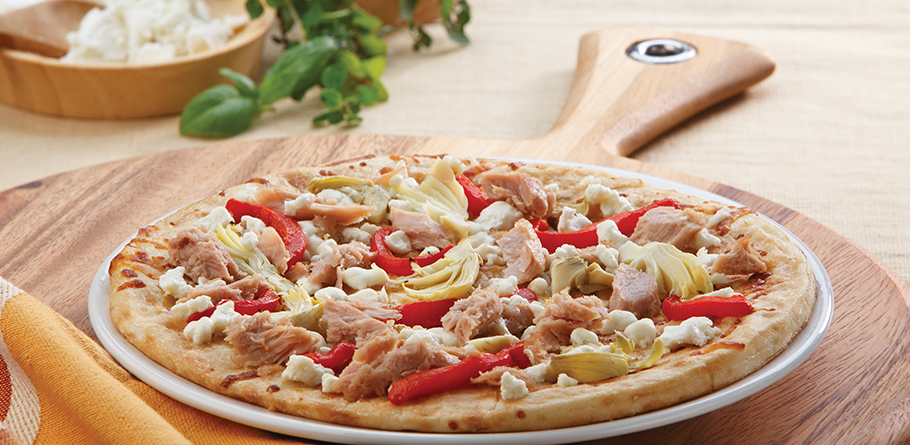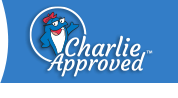 This delectable Mediterranean Tuna Pizza dish will draw the whole family to the table! Top a prepared pizza shell with Yellowfin Marinated Tuna in Extra Virgin Olive Oil and Roasted Garlic, artichokes, roasted red pepper and goat cheese. Bake until the crust begins to brown.
Ingredients:
1 (4.5 oz.) Can – StarKist E.V.O.O.® Solid Yellowfin Tuna with Roasted Garlic
1 large prepared pizza shell
4 oz. plain goat cheese, crumbled
4 canned artichoke hearts, quartered
1 roasted red pepper cut in strips 1⁄2 inch wide
Directions:
Preheat oven to 400°F.
Place pizza crust on large baking sheet.
Drizzle some of the oil from the tuna on dough and rub lightly over the shell.
Break tuna into chunks and crumble evenly over the pizza shell.
Break goat cheese and crumble over pizza shell.
Place artichoke quarters and red pepper strips strategically/decoratively over the shell and drizzle with remaining oil.
Bake in a 400ºF oven for 15 – 18 minutes, until crust browns and cheese just begins to brown.
Recipe Nutrition Information
When using 1 (4.5 oz.) Can – StarKist E.V.O.O.® Solid Yellowfin Tuna with Roasted Garlic
Nutrition Info
Servings Per Container: 4
Serving Size: 1 can 4.5 oz./232g
Amount Per Serving
DV%*
Calories
500
Total Fat
23g
35%
Saturated Fat
9g
45%
Trans Fat
0g
Cholesterol
35mg
12%
Sodium
920mg
38%
Total Carbohydrate
54g
18%
Dietary Fiber
4g
16%
Total Sugars
3g
Protein
22g
Vitamin A
25%
Vitamin C
45%
Calcium
20%
Iron
20%
*The % Daily Value tells you how much a nutrient in a serving of food contributes to a daily diet. 2,000 calories a day is used for general nutrition advice.