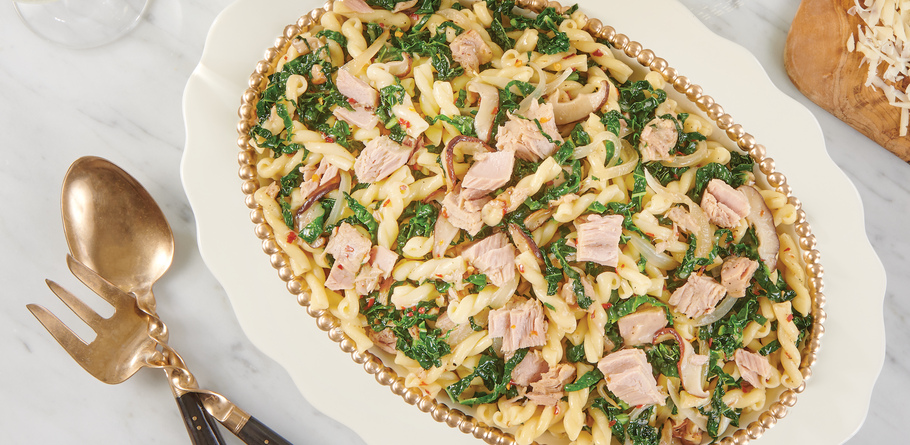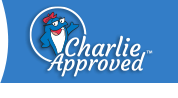 Ingredients:
2, (4.5 oz.) cans StarKist Yellowfin in EVOO with Roasted Garlic (not drained)
2 tsp. extra virgin olive oil
½ cup sliced sweet onion
1 cup sliced shiitake mushrooms (about 20 mushrooms)
¼ tsp. black pepper
¼ - ½ tsp. crushed red pepper flakes
3 cups sliced Tuscan kale
1 lb. Gemelli pasta
5 oz. shredded fontina cheese
Directions:
Heat olive oil in a large sauté pan over medium heat. Add the onions and cook for 2 minutes. Add the sliced mushrooms and cook until browned on both sides, about 5 minutes.
Stir in black pepper and crushed red pepper and cook for 1 minute. Add the kale and heat for 2 minutes, stirring until the kale wilts.
Meanwhile, cook the pasta according to the package directions until al dente. (About 11 minutes). Reserve 1 cup of pasta water and then drain the pasta and put it back in the pan.
Add the onions, mushrooms and kale to the pasta and mix to combine. Add the shredded cheese and mix, stirring in the reserved pasta water to coat the ingredients.
Gently mix in the tuna and oil.
Recipe Nutrition Information
When using 2 (4.5 oz.) Cans - E.V.O.O.® Yellowfin in EVOO with Roasted Garlic
Nutrition Info
Servings Per Container: 4
Serving Size: 2 – ¼ cups
Amount Per Serving
DV%*
Calories
800
Total Fat
25g
32%
Saturated Fat
7g
35%
Polyunsaturated Fat
2g
Monounsaturated Fat
9g
Trans Fat
0g
Cholesterol
30mg
10%
Sodium
490mg
21%
Total Carbohydrate
104g
38%
Dietary Fiber
3g
11%
Total Sugars
9g
Added Sugars
0g
0%
Protein
39g
Vitamin D
2mcg
10%
Calcium
340mg
25%
Iron
5mg
30%
Potassium
310mg
6%
*The % Daily Value tells you how much a nutrient in a serving of food contributes to a daily diet. 2,000 calories a day is used for general nutrition advice.