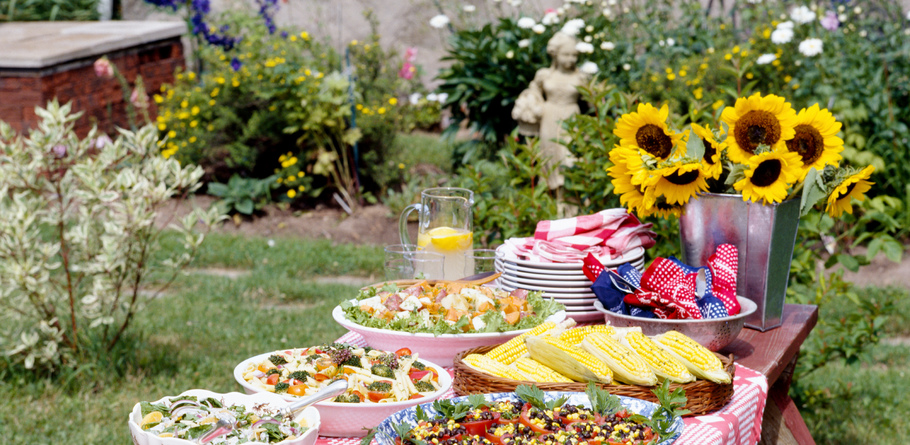 Summer is the perfect time of year to enjoy seafood. It's light, quick and easy to prepare and packed with nutrients.
In addition to being delicious, seafood is a great source of high-quality protein, is typically low in fat, low in saturated fat and a natural source of heart healthy Omega – 3s. You get a lot of bang for your buck out of seafood! It is loaded with B Vitamins, potassium, magnesium, and selenium but doesn't load you down with calories.
The Dietary Guidelines for Americans recommend that each American eat 2 – 3 servings of fish a week, but did you know that seafood consumption has dropped to record lows over the last 9 years? According to the National Fisheries Institute, Seafood Consumption has dropped 14% from 2006 to 2012 and is the lowest it has been since 1990. 80 – 90% of Americans eat less than half of what health professionals recommend and the majority eats less than 2 oz. a week.
There are so many varieties of good seafood available to us today this is a shame. Even those who live in landlocked areas can get fresh seafood today and some of the packaged varieties are tasty and convenient making it easier than ever! If the thought of preparing fish sends you into a mild panic, take a deep breath! Preparing a light and healthy seafood meal can be simple!
Look at these ten ways to incorporate seafood in your meals and you will be sure to reel in meals full of flavor and packed with variety!
Think Apps! Add clams or tuna to your bruschetta mixture, add crabmeat to stuffed mushrooms or make an easy flatbread with seasoned shrimp, cheese and vegetables. You'll be the hit of your dinner party!
Bank on Burgers: Mix chopped salmon or tuna with and egg, onions, and herbs. Grill, sauté or bake them until they are browned. Serve with a fruit salsa for a summery main dish.
Creative Substitutions: Seafood is an excellent replacement for beef, chicken or pork. Use shrimp in your next stir-fry or Pad Thai instead of chicken or pork; add clams to pasta sauce and try salmon or tuna in your stuffed pepper recipe.
Chill with Soup: Have extra tomatoes and cucumbers in the garden? Make a cool gazpacho and add cooked shrimp or lobster meat for simple summer supper.
Fit for Kids: Add mild tasting fish to their favorite dish – mix tuna into macaroni and cheese or into their sloppy joe mix or take a mild tasting fish like cod or tilapia, cut it in strips, bread it and bake it for a homemade version of fish sticks.
Keep it Simple: Canned or pouch tuna and salmon are inexpensive, convenient ways to add seafood to meals. Add a pouch of tuna to your salad at lunch. Add tuna or salmon to tacos, sandwich wraps or stir some tuna, salmon, shrimp or crabmeat into your favorite dip for a tasty treat.
Roasting rules: Roasting seafood is a fast way to get perfectly cooked fish on the table in minutes. Both light fish like flounder and cod and heartier fish like halibut and salmon are easy to roast. Simply heat your oven to 400°F, place the fish in an oiled pan along with vegetables and roast for 10 – 20 minutes depending on the thickness of the fish. The fish should flake easily when it's done.
Let's get smoky! Obsessed with grilling? Another perfect way to cook fish is to use a cedar plank or wood chips. Thoroughly soak the cedar plank or chips in warm water. Place the plank over hot coals or the chips in a foil pan on the rack in your grill. Add the fish and place the cover back on and watch the smoke rise. Check the fish in 10 – 15 minutes – it's done when it flakes easily with a fork.
Take It Outside: If the smell of fish bothers you but you love the taste, try grilling your fish. Wrap a piece of white fish or salmon in foil with vegetables, herbs and spices and place it on a medium- hot grill. Cook until it flakes easily with a fork.
Ask the Professionals: Ask at your fish counter in your grocery store if they have any recipes or seasonings they recommend using with fresh seafood. Often they will have pre-seasoned seafood available to purchase. It may be a little more expensive but it will save you time and guess work if you aren't used to cooking seafood.