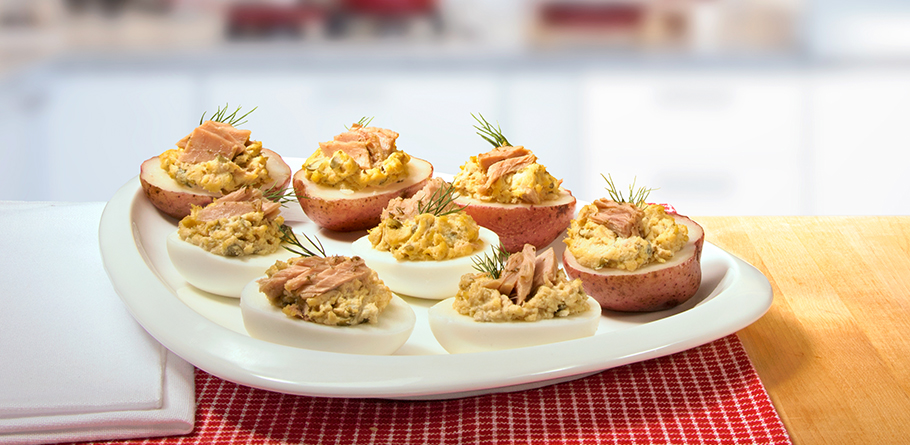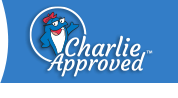 Ingredients:
1 (4.5 oz.) Can – StarKist E.V.O.O.® Solid Yellowfin Tuna with Lemon Dill
6 hard-boiled eggs, sliced in half
6 small red potatoes
1⁄2 tsp. minced garlic
2 oz. goat cheese
2 Tbsp. capers
Directions:
Boil potatoes in water for 10 – 15 minutes, until just tender. Cool under running cold water until able to handle.
Once cold, cut in half and scoop about a ½ - 1 Tablespoon out of the center of each potato half. You should have a small well in the center of each potato, leaving a little around the edges and the bottom.
Scoop egg yolks out of halved eggs and place in a food processor. Add garlic, goat cheese and capers to food processor. Drain oil from tuna into the food processor bowl and half of the tuna from the can. Puree until well blended.
Using a small scoop, place tuna and egg mixture into each half hard-boiled egg white and each half potato. Garnish with a small piece of reserved tuna and chopped capers. Arrange on a plate and enjoy!
Recipe Nutrition Information
When using 1 (4.5 oz.) Can – StarKist E.V.O.O.® Solid Yellowfin Tuna with Lemon Dill
Nutrition Info
Servings Per Container: about 24
Serving Size: 75g
Amount Per Serving
DV%*
Calories
70
Total Fat
2.5g
4%
Saturated Fat
1g
5%
Trans Fat
0g
Cholesterol
50mg
17%
Sodium
85mg
4%
Total Carbohydrate
9g
3%
Dietary Fiber
1g
4%
Total Sugars
1g
Protein
4g
Vitamin A
2%
Vitamin C
8%
Calcium
2%
Iron
4%
*The % Daily Value tells you how much a nutrient in a serving of food contributes to a daily diet. 2,000 calories a day is used for general nutrition advice.