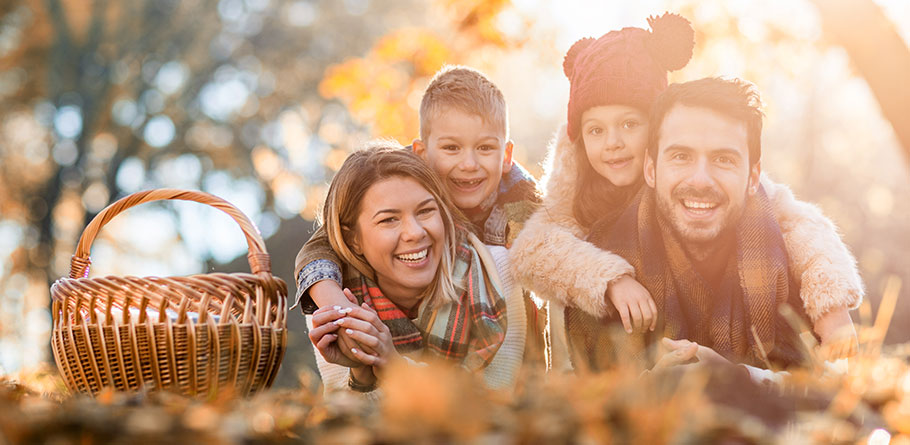 Summer may seem like the perfect time for a weekend getaway, but fall days have cool mornings and clear afternoons that are perfect for a quick escape. Can't take a whole weekend? No problem, research has shown even short breaks help clear the mind and reduce stress! A Sunday afternoon hike in the woods or day trip to do some leaf peeping and a relaxing picnic lunch can be the perfect way to reinvigorate and destress!
Here are a few tips for planning a perfect picnic and stress-free getaway.
Picnic planning – Keep it simple – there is no need to spend hours prepping the perfect picnic lunch! You can plan a delicious and special meal with just a few quick tricks. Pick up some croissants, tortillas or a delicious loaf of pre-sliced whole grain bread, add a few flavorful Tuna or Salmon Creations® pouches, lettuce and tomatoes and you have the makings for delicious sandwiches. You can assemble this fun Buffalo Style Tuna Wrap right at the picnic table!
Keep it cold – The weather may be cooler but you still need to keep your food protected and cold. Pack a cooler with ice packs or frozen water bottles to keep your perishables cold. Cheese, meats, potato salad or cream based pies should go in the cooler.
Flavors of fall – nothing says fall better than fresh apples, pears or grapes. They are the perfect finger foods and don't require any preparation other than a quick washing before you pack them up.
Keep hydrated – even though the weather is cooler you still need to drink plenty of fluids, especially if your getaway includes lots of activity like hiking, biking or football. Freeze a couple of bottles of water and/or juice the night before you leave and place them in your cooler in the morning. They act like an ice pack and keep your food cold and then you have cold water to drink later that day – double duty!
Delicious Dessert: Nothing says fall better than apple crisp or pumpkin pies! Stop at your local bakery on the way out of town or make mini pies ahead in a muffin tin and pack the whole tin to transport them easily! If you will be somewhere with a campfire, pack up the makings for s'mores for a delicious chocolate treat to end the evening.
Picnic blanket: Something to sit on and accompaniments to enjoy your delicious break are necessities! A blanket, folding chairs or table cloth to cover the picnic table will take care of it! Don't forget utensils, napkins and plates. To save on trash, keep a stash of old utensils, fun colorful cloth napkins and lightweight plastic plates that you can take with you. Just toss them in a trash bag or plastic bin when you are done and they are ready for the dishwasher when you get home.
Be a Good Neighbor: Pack up trash bags and cleaning supplies – One trash bag for trash and one for recyclables. If there aren't trashcans nearby, just pack it up and take it home to toss out. Hand wipes, paper towels and a plastic jug of water to clean up the area once you are done are great to keep in your car.
It's time to get out there, take a break and enjoy the beauties of the fall season!