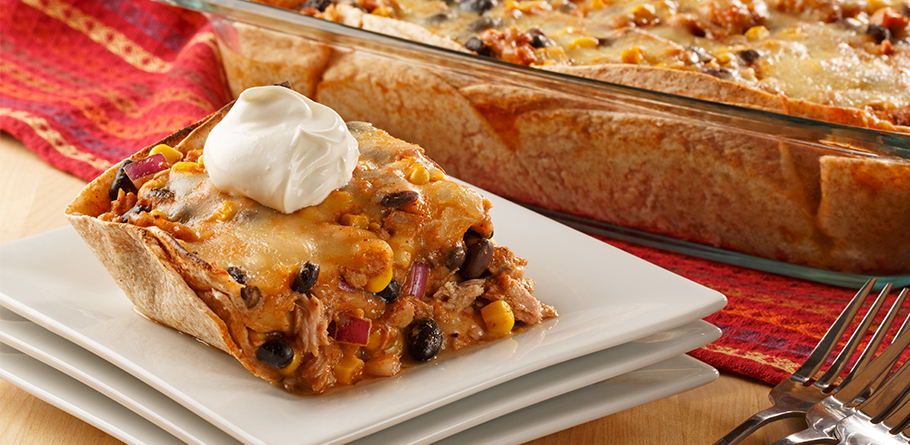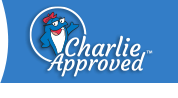 Give your classic tuna casserole a spicy makeover with our Southwest Style Tuna Casserole. Use Low Sodium Chunk Light Tuna along with corn, black beans, spices, enchilada sauce and cheese. Baked until the cheese is brown and bubbly.
Ingredients:
4 (2.6 oz.) Pouches - 25% Less Sodium Chunk Light Tuna in Water
6 whole wheat fajita style tortillas
1 can (15.25 oz.) Whole Kernel Corn, Low Sodium, drained
1 can (15 oz.) Black Beans, Low Sodium, rinsed and drained
1 can (10 oz.) Enchilada Sauce
1⁄2 cup diced red onion
2 tsp. chili powder
11⁄2 tsp. cumin
8 oz. finely shredded Monterey Jack Cheese, divided
Sour Cream, Salsa, Avocado (optional)
Directions:
Preheat oven to 350°F. Spray 9 x 13 inch pan with cooking spray.
Line pan with 4 flour tortillas so bottom is covered and tortillas run up the sides of the pan.
Mix together the tuna, corn, beans, onion, chili powder and cumin. Add the enchilada sauce and mix well.
Spread 1⁄2 of the tuna, corn and bean mixture over the tortillas. Sprinkle 1⁄2 of the cheese over the tuna mixture.
Lay two additional tortillas over the cheese. Spread the remaining tuna mixture over the top. Add 1⁄2 of the remaining cheese.
Cover with foil and bake for 25 minutes, until hot throughout. Sprinkle remaining cheese on top and place under the broiler for 1 – 2 minutes, until cheese is just browned.
Serve with salsa, sour cream and avocado as desired.
Recipe Nutrition Information
When using 4 (2.6 oz.) Pouches - 25% Less Sodium Chunk Light Tuna in Water
Nutrition Info
Servings Per Container: 8
Serving Size: 214g
Amount Per Serving
DV%*
Calories
300
Total Fat
12g
15%
Saturated Fat
5g
25%
Cholesterol
45mg
15%
Sodium
840mg
37%
Total Carbohydrate
31g
11%
Dietary Fiber
4g
14%
Total Sugars
2g
Includes Added Sugars
0g
0%
Protein
20g
Vitamin A
10%
Vitamin C
2%
Vitamin D
1mcg
6%
Calcium
220mg
15%
Iron
2mg
10%
Potassium
370mg
8%
*The % Daily Value tells you how much a nutrient in a serving of food contributes to a daily diet. 2,000 calories a day is used for general nutrition advice.