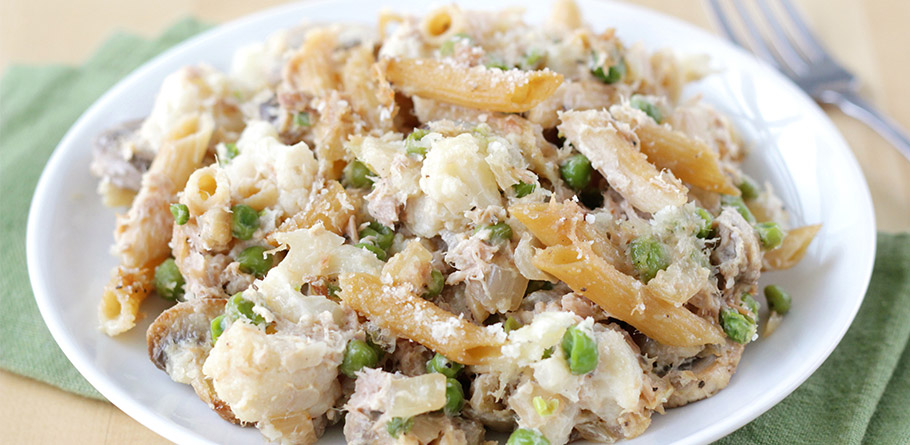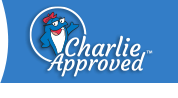 Ingredients:
2 (2.6 oz.) Pouch - Tuna Creations® Herb & Garlic
3 cups frozen cauliflower florets
41⁄2 oz. (about 11⁄4 cups) uncooked high-fiber penne pasta
2 cups sliced mushrooms
1 cup chopped onion
1 cup frozen peas
1⁄4 tsp. onion powder
1⁄4 tsp. garlic powder
1⁄4 tsp. black pepper
5 wedges The Laughing Cow Light Creamy Swiss cheese
1⁄4 cup light sour cream
1⁄2 cup grated Parmesan cheese
Directions:
Preheat oven to 350 degrees. Spray an 8" X 8" baking pan with nonstick spray.
Place cauliflower in a large microwave-safe bowl; cover and microwave for 3 minutes. Uncover and stir. Re-cover and microwave for 2 - 3 minutes, until hot. Drain excess liquid. Roughly chop cauliflower, return to the bowl, and cover to keep warm.
In a medium-large pot, cook pasta per package instructions, about 8 minutes. Drain pasta, and stir into cauliflower. Re-cover to keep warm.
Bring a large skillet sprayed with nonstick spray to medium-high heat.
Add mushrooms and onion. Cook and stir until softened and lightly browned, about 4 minutes. Add peas and cook and stir until hot, about 2 minutes.
Transfer skillet contents to the large bowl. Add tuna and seasonings. Mix thoroughly.
In a medium bowl, stir cheese wedges until smooth. Add sour cream, and stir until uniform.
Add cheese mixture and 1⁄4 cup Parm to the large bowl, and stir to coat.
Transfer contents to the baking pan. Sprinkle with remaining 1⁄4 cup Parm.
Recipe Nutrition Information
2 (2.6 oz.) Pouch - Tuna Creations® Herb & Garlic
Nutrition Info
Servings Per Container: 1
Serving Size: ¼ of recipe (about 2 cups)
Amount Per Serving
DV%*
Calories
378
Sodium
798mg
Total Carbohydrate
41.5g
Dietary Fiber
8g
Sugars
10g
Protein
27.5g
*The % Daily Value tells you how much a nutrient in a serving of food contributes to a daily diet. 2,000 calories a day is used for general nutrition advice.