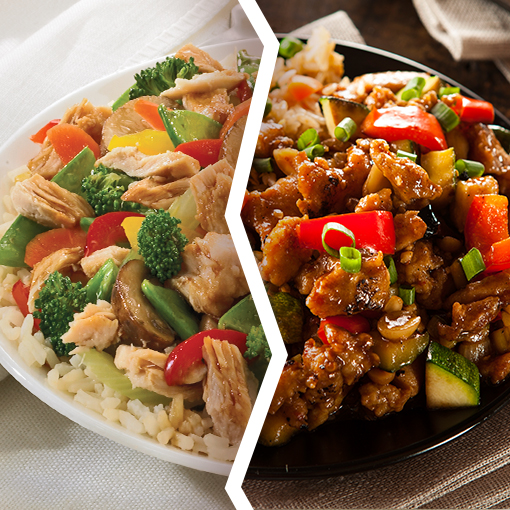 Albacore Stir Fry Vs. Chicken Stir Fry
| TUNA | VS. | chicken |
| --- | --- | --- |
| 260 | Calories | 290 |
| 8g | Total Fat | 9g |
| 1.5g | Sat. Fat | 2g |
| 15mg | Cholesterol | 40mg |
| 1160mg | Sodium | 1040mg |
| 32g | Total Carbs | 32g |
| 15g | Protein | 19g |
What is an alTUNAtive?
Tuna is an incredibly versatile protein and can be swapped for other proteins. It works well in many of your favorite recipes and can be a great way to lower the fat and cholesterol and add those heart healthy omega-3's to your favorite recipes.
Tuna is also a great way to "mix it up" a bit! It's a nice way to jazz up your recipes and add some fun flavors to your favorite dishes.
We've shown you some examples of how the nutritional profiles* and flavors change with some of our favorite recipes. Now it's your turn! Share your favorite alTUNAtives with us — we love to see your creativity!
Complete Nutritional Information
| TUNA | VS. | chicken |
| --- | --- | --- |
| 260 | Calories | 290 |
| 8g | Total Fat | 9g |
| 1.5g | Sat. Fat | 2g |
| 15mg | Cholesterol | 40mg |
| 1160mg | Sodium | 1040mg |
| 32g | Total Carbs | 32g |
| 15g | Protein | 19g |
Serving Size (283g)
Recipe based on comparison of tuna and breast meat chicken, roasted, no skin.
Nutritional comparisons are done using the same recipe only with the tuna swapped for the alternate protein. No other changes to the recipes were made so the comparison would be as accurate as possible. All nutritional analyses are completed using Genesis SQL Version 9.7.2.
Get dinner ready in a flash with this StarKist® alTUNAtive stir fry recipe that's better than take out. Savor stir-fried vegetable with Albacore White Tuna and a homemade sauce. To help reduce the sodium content, swap in reduced sodium soy sauce.
Ingredients:
1 (6.4 oz.) Pouch or 2 (2.6 oz.) Pouches or 2 (5 oz.) Cans - Albacore White Tuna in Water (if using cans, drained and chunked)
1⁄2 cup chopped onion
1 tsp. minced garlic
3 Tbsp. soy sauce
1 Tbsp. lemon juice
2 Tbsp. vegetable oil
1 bag (16 oz.) frozen oriental vegetables (or 4 cups thinly sliced assorted fresh vegetables; carrots, snow peas, broccoli, bell pepper, mushrooms and celery)
1 tsp. sugar
2 cups cooked rice
Directions:
Heat oil in a large skillet or wok and stir-fry onion, garlic and vegetables until crisp-tender; about 4 minutes.
Add tuna, soy sauce, sugar, lemon juice and 1 Tbsp. water. Stir fry for 1 minute, until tuna is heated through.
Serve over hot rice.
Recipe Nutrition Information
When using 1 (6.4 oz.) Pouch - Albacore White Tuna in Water
Nutrition Info
Servings Per Container: 4
Serving Size: 283g
Amount Per Serving
DV%*
Calories
260
Total Fat
8g
12%
Saturated Fat
1.5g
8%
Trans Fat
0g
Cholesterol
15mg
5%
Sodium
1200mg
50%
Total Carbohydrate
32g
11%
Dietary Fiber
3g
12%
Total Sugars
6g
Protein
16g
Vitamin A
8%
Vitamin C
30%
Calcium
4%
Iron
10%
*The % Daily Value tells you how much a nutrient in a serving of food contributes to a daily diet. 2,000 calories a day is used for general nutrition advice.