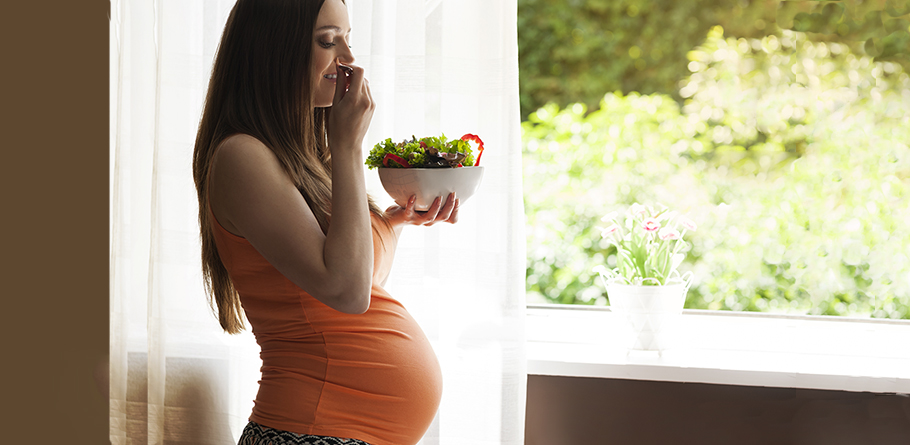 Laura Ali, MS, RDN, LDN
It is well established that a diet rich in seafood is important for heart health. It is also becoming clear that seafood provides a multitude of other health benefits and is especially important for pregnant and breastfeeding moms. Seafood is rich in the omega 3 fatty acid, DHA, an important building block for our brains and our eyes, both of which undergo significant development during gestation and a baby's first few years of life.1 Seafood is also rich in Vitamin D, the antioxidant selenium and B vitamins, all of which are important for a growing child.
The Dietary Guidelines for Americans recommend that all women who are pregnant eat 8 – 12 oz. of seafood a week.2 However, the average intake among pregnant women is less than 2 oz. a week, indicating the majority of American women and children are missing out on these brain building nutrients.3
What is holding moms-to-be back from getting enough of this important protein? According to a recent study in the Nutrition Journal, while the nutritional benefits of seafood are well known, many women receive contradictory advice about eating seafood due to concerns of contaminants, including methylmercury (mercury).4 For example, an FDA and EPA Advisory in 2004 recommended that pregnant and breastfeeding women avoid some seafood and limit their intake of other types of seafood due to their methylmercury content and the potential for neurodevelopment disorders. Unfortunately this advice resulted in women limiting or avoiding seafood altogether.
In 2014, The Food and Drug Administration issued "A Quantitative Assessment of the Net Effects on Fetal Neurodevelopment from Eating Commercial Fish (As Measured by IQ and also by Early Age Verbal Development in Children)". This report looked at both, the cognitive benefits children receive when their mothers ate a variety of commercially available fish, and the developmental effects from methylmercury exposure. Cognitive benefits were seen in children of moms who ate 12 or more oz. of seafood a week throughout their pregnancy. The data in this study indicated that peak IQ benefits were seen when eating 12 oz. of seafood a week while no adverse effects were seen.3
Other research has corroborated these results. In a recent Spanish study of over 1500 mothers and children, a positive association was found between moderate seafood consumption (600g/week, which is approximately 21 oz. or 4 servings) during pregnancy and neuropsychological development at 5 years of age. All types of seafood were included in the study including high fat fish, shellfish, lean fish including canned tuna and overall seafood intake. Methylmercury was seen to be a marker of seafood consumption but did not seem to have any neurotoxic association.5
Helping women understand the importance of nutrition during pregnancy has always been a priority for health care professionals. Encouraging them to eat 2 – 3 servings (12 oz.) of seafood a week should be part of that conversation. Shelf stable tuna, salmon, and sardines are convenient and affordable choices that can to help moms to-be eat the recommended 12 oz. of seafood a week. StarKist® makes it easy to eat more seafood with single serve, no drain tuna and salmon pouches. With 20 varieties & flavors, each pouch has at least 13g of lean protein and 90mg of Omega 3 fatty acids. For more ideas to help your clients eat more seafood visit StarKist.com/recipes or getrealaboutseafood.com
1 McCann, JC and Ames, BN "Is docosahexaenoic acid, an n−3 long-chain polyunsaturated fatty acid, required for development of normal brain function? An overview of evidence from cognitive and behavioral tests in humans and animals" Am J Clin Nutr. (2005) 82(2): 281-295.
2 The Dietary Guidelines for Americans, 2015. U.S. Department of Health and Human Services and U.S. Department of Agriculture. 2015 – 2020. 8th Edition. December 2015.
3 FDA. A Quantitative Assessment of the Net Effects on Fetal Neurodevelopment from Eating Commercial Fish (As Measured by IQ and also by Early Age Verbal Development in Children). Food and Drug Administration. Silver Spring, MD. 2014.
4 McGuire, J., et al. The 2014 FDA Assessment of Commercial Fish: Practical Considerations for Improved Dietary Guidance. Nutrition Journal (2016) 15:66 DOI 10.1186/s12937-016-0182-9
5 Julves, J, et. Al. Maternal Consumption of Seafood in Pregnancy and Child Neuropsychological Development: A Longitudinal Study Based on a Population With High Consumption Levels. Am J Epidemiology. Advance Access published January 5, 2016. Accessed online: http://aje.oxfordjournals.org on January, 22, 2016 DOI: 10.1093/aje/kwv195.
Laura Ali, MS, RDN, LDN is the Registered Dietitian Nutritionist for StarKist Co. She has over 25 years of experience having worked in clinical, retail and the food industry. She is an avid proponent that healthy eating is a delicious way of eating and works with StarKist Co. to develop recipes and programs for consumers and health care professionals.