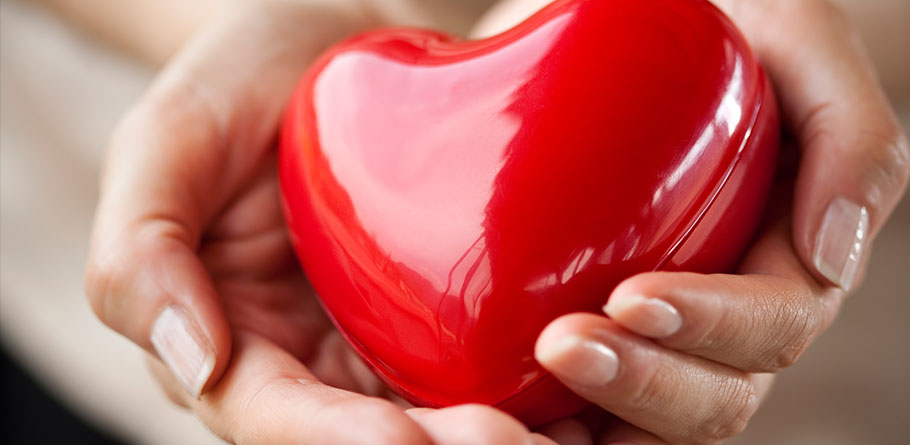 Make this year's New Year's Resolution something that will last a lifetime! Resolutions are hard to keep. In fact, for most of us, good intentioned resolutions have fallen by the wayside a few weeks into the year. But knowing that heart disease remains one of the top health issues in America, maybe this year is a good year to focus on making a few healthy changes – just for your heart!
Here are ten ideas to helping you live a more heart healthy lifestyle in 2016!
Choose One – You probably have a list a mile long of things you'd like to change or improve on. But, tackling them all at once is difficult. Focus on one thing you think you can change for a healthier life. Set weekly goals to start making it a habit.
Be mindful – When eating turn off the television, turn away from your computer and focus on the food you are eating, and the people you are eating with! Studies have shown you will eat less and better when you pay attention to what you are doing. You'll enjoy that meal more too!
Go Mediterranean – They certainly know how to live! The Mediterranean diet is one of the best eating styles to follow. A diet rich in fruit, vegetables, whole grains, seafood, olive oil and yes, a little red wine are all it takes. Now, isn't that a diet you can live with?
Get some fresh air – Getting outside, even for a few minutes a day helps improve mood and may reduce stress. Take a quick walk at lunch time or grab the dog and go for a walk first thing in the morning and at night. It will clear your mind and your increase your energy level!
Checkup – While going to the Doctor may get your blood pressure up, keep that appointment and get on the road to a healthy life. The sooner a problem is identified the better your chances for correcting it!
Find a hobby – Break away from the television and video games! Pick up a hobby like drawing, photography, or even doing crossword puzzles. Keep your mind busy and keep learning and your mind will stay sharp.
Look to the Sea – Research has also shown that people who eat at least two servings of seafood a week have lower rates of heart disease than those who eat less. In fact the Dietary Guidelines for Americans recommends eating at least 8 oz. of a variety of fish each week – such as light meat tuna, salmon or shellfish.
Cook at home – Americans eat out on average four to five times a week. While it is much easier to find healthy food when eating out than it used to be, eating at home really helps you control what you put in your mouth. Aim to cook one more meal at home a week to help keep you on track and then enjoy those restaurant meals even more when you do eat out!
Pack a sack – While running to the nearest sub shop or your office café might be easier, if you can pack a lunch once or twice a week you'll save money and most likely save on extra calories and fat too! Look for easy to pack and go items like salad and a pouch of tuna, a sandwich you make the night before, fruit, cut up vegetables (pack small bags on the weekend so you just grab one in the morning)
Tune out – We are constantly surrounded by noise – it's almost impossible to run off! Unfortunately, research has shown that being exposed to constant noise increases our stress hormone levels and long term may affect our hearts. Find 10 minutes a day to just turn off and be quiet. You'll be amazed at how refreshed you will feel with just a few minutes of quiet a day.