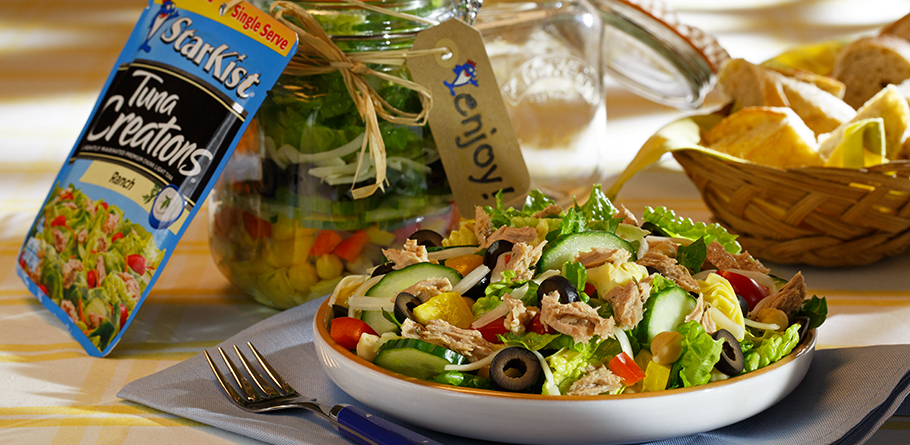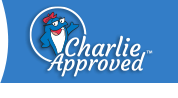 Salad Jars are an incredibly versatile recipe. Just add the ingredients you love to make a salad just the way you like it. Perfectly portable; take the filled jar whereve you go, pour out on a plate and top with tuna when you get there! So get those creative juices flowing – try this recipe to start using Tuna Creations® Ranch!
Ingredients:
1 (2.6 oz.) Pouch - StarKist Tuna Creations® Ranch
1⁄4 cup diced canned artichoke hearts
1⁄4 cup garbanzo or cannellini beans
1⁄2 cup diced red and yellow pepper
1⁄4 cup cucumber slices
1⁄4 cup sliced black olives
1⁄4 cup shredded mozzarella cheese
2 cups chopped lettuce leaves
1 wide-mouth canning jar with lid
Directions:
Layer ingredients in jar, starting with wettest ingredients at the bottom and ending with lettuce on top.
Start with artichoke hearts on the bottom, then layer on the beans, followed by peppers, cucumber and black olives. Top with cheese and lettuce.
Tie your favorite flavor of StarKist Tuna Creations® on the outside and you are ready to take lunch with you!
Open jar and turn it over on a plate and let the ingredients fall out. Top with your favorite Tuna Creations® and enjoy! No dressing required!
Recipe Nutrition Information
When using 1 (2.6 oz.) Pouch - Tuna Creations® Ranch
Nutrition Info
Servings Per Container: 1
Serving Size: 452g
Amount Per Serving
DV%*
Calories
320
Total Fat
11g
17%
Saturated Fat
4g
20%
Trans Fat
0g
Cholesterol
50mg
17%
Sodium
1090mg
45%
Total Carbohydrate
27g
9%
Dietary Fiber
7g
28%
Total Sugars
5g
Protein
29g
Vitamin A
200%
Vitamin C
300%
Calcium
35%
Iron
25%
*The % Daily Value tells you how much a nutrient in a serving of food contributes to a daily diet. 2,000 calories a day is used for general nutrition advice.