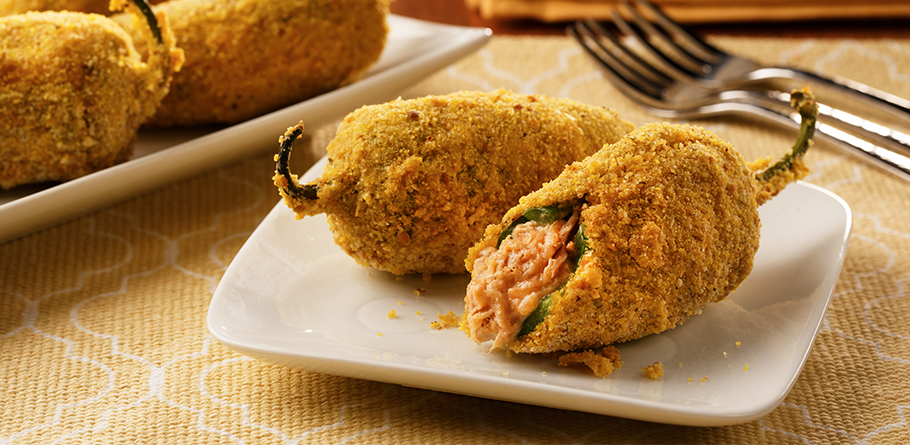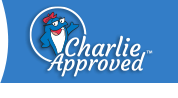 Give your Friday night a little kick with this twist on a classic treat. Our Jalapeño Tuna Poppers are stuffed with Chunk Light Tuna, cream cheese and herbs, then breaded and baked until lightly browned.
Ingredients:
1 (6.4 oz.) Pouch - Chunk Light Tuna in Water
8 oz. cream cheese, softened
1 - 1⁄2 cups cheddar jack cheese
2 cloves garlic, minced
1 tsp. paprika
1⁄2 tsp. cumin
15 jalapeño peppers
2 eggs, beaten
1⁄2 cup breadcrumbs
1⁄4cup cornmeal
1 tsp. oregano
Directions:
Preheat oven to 375°F.
In a small bowl mix tuna, softened cream cheese, cheddar jack cheese, garlic and spices until well blended.
Cut jalapeños lengthwise, halfway through and across the top partway through. Clean the seeds out with a gloved finger.
Take 1 - 1 1⁄2 tsp. of the tuna mixture and stuff the inside of each pepper, then push closed. (The pepper should stay shut.)
Dip the pepper in egg and coat thoroughly, then dip in the breadcrumb mixture and set on a cutting board to dry.
Dip for a second time in the egg mixture and bread crumb mixture and place on a cookie sheet, sprayed or brushed lightly with cooking oil. Spray top and sides of the peppers lightly with oil.
Bake at 375°F for 10 minutes, until lightly browned.
Recipe Nutrition Information
When using 1 (6.4 oz.) Pouch - Chunk Light Tuna in Water
Nutrition Info
Servings Per Container: 15
Serving Size: 1 popper
Amount Per Serving
DV%*
Calories
140
Total Fat
9g
14%
Saturated Fat
6g
30%
Trans Fat
0g
Cholesterol
60mg
20%
Sodium
190mg
8%
Total Carbohydrate
6mg
20%
Dietary Fiber
1g
4%
Total Sugars
1g
Protein
8g
Vitamin A
10%
Vitamin C
30%
Calcium
4%
Iron
4%
*The % Daily Value tells you how much a nutrient in a serving of food contributes to a daily diet. 2,000 calories a day is used for general nutrition advice.