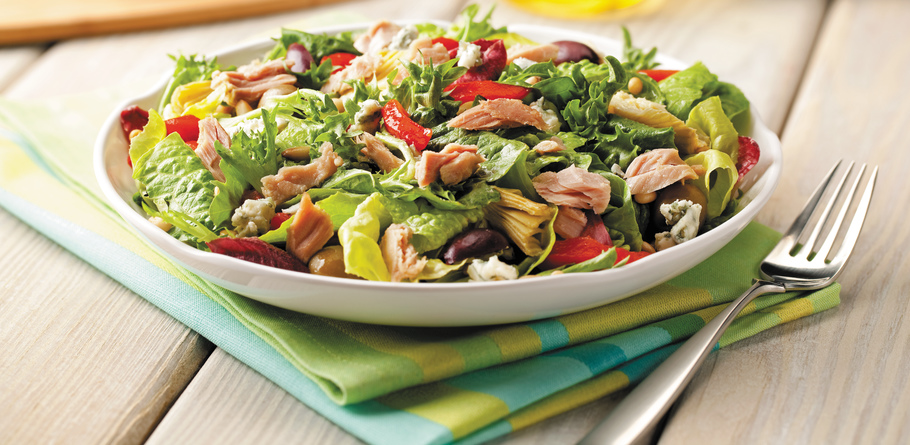 I want to eat a healthy lunch but am bored with my lettuce and tomato salad. Do you have any ideas to help me mix it up and stick with my eating plan?
Summer is the perfect time of year to give your salad an upgrade! There are no rules for salads and it is the perfect time mix it up a bit and enjoy the bounty of fresh produce that is available. Try these tips for healthy, flavorful tips for a satisfying salad.
Try variety of lettuce greens, spinach and arugula for different colors and flavors; throw in some fresh herbs like dill, cilantro, tarragon or parsley leaves for a simple but unexpected boost of flavor; Add in different nuts for an unexpected crunch, dried fruit for a sweet burst of flavor or fresh avocado slices for a creamy, flavorful punch.
Take advantage of local farmers markets for a variety of fruits, vegetables, meats and other items from local farms in your area.It's a great way to support your local farmer and get fruits and vegetables that are fresh and in season and maybe something you haven't tried before.If you don't know of a farmer's market in your area you can search for one through the Local Harvest website http://www.localharvest.org/ or through the Agricultural Marketing Service.http://search.ams.usda.gov/farmersmarkets/
If you find you are hungry an hour after eating a salad, chances are you didn't get enough protein in the mix.Add a pouch of StarKist Tuna, leftover grilled chicken breast or salmon or cannellini or garbanzo beans.Sprinkle on little cheese and a few nuts and your salad will give your afternoon the boost it needs
Satisfy those carb cravings!
Lose the croutons but don't lose carbs.Toss in some cooked quinoa, bulgur or barley will add filling whole grains and extra fiber.These grains are easy to cook up over the weekend and store in your refrigerator.You've just saved time in the morning and given your body the whole grains your body needs.
Don't forget the dressing
It's true, regular (full fat) salad dressings help your body absorb all those healthy vitamins and minerals that are found in the fruits and veggies you toss in your salad.So, to get the most nutrition from your salad, skip the fat free and low fat dressing and go for the real thing!You'll be skipping extra salt and sugar too so a double bonus!
Keep it cold! There are lots of cute ideas for carrying salads with you like mason jars, bento boxes and special salad shakers.These are all convenient ideas and many come with chilling suggestions or removable ice packs which are an added bonus and will help keep your meal at the right temperature. If you don't have the built in ice pack, store your salad in an insulated lunch bag with a cold pack or your office refrigerator and stay safe!
For more delicious salad ideas check out our salad page!