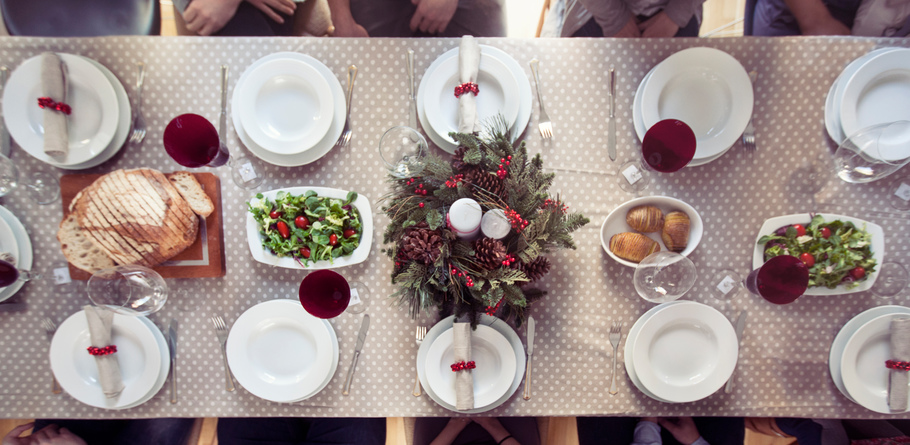 The joy of spending time with family and friends over the holidays is something most of us look forward to. That joy can easily be eclipsed by stress that so often comes along with the holiday! Here are some ways to simplify entertaining – so you can really enjoy them with your family and friends this holiday season!
Organize – Make shopping lists and menus well in advance of the big event. Write out a timeline for the day of the event and figure out what serving dishes you have and will need so you don't have any last minute surprises! Don't forget to schedule in downtime to regroup and relax and time to exercise to help manage your stress.
Preparation – Have you ever watched a chef on a cooking show and wondered how they make it look so easy? Take note that everything weighed and measured ahead so the dishes come together incredibly quickly – they will for you too if you prepare ahead! Measure out dry ingredients and put them in bags or containers a day or two before, place refrigerated ingredients together so you can pull them all at once, get your pans and utensils assembled before you start and you'll find that recipe gets pulled together quickly too.
Make Ahead – Plan for a couple of recipes that can be made ahead and frozen or refrigerated until party time! Some foods even taste better when they are made ahead! Casseroles can be preassembled, dips can be made the night before, soups, rolls and pie shells can be made and frozen, and some appetizers can be frozen and then heated the night of the party. Even gravy can be made ahead of time and reheated. The less time you spend in the kitchen the night of the event, the more time you will have to enjoy your family and friends!
Solicit help – While it is fun to try to do everything yourself sometimes it's okay to ask for a little help! Rather than true pot luck, ask your guests to bring specific items. Keep in mind how the food will hold up in travel when asking for dishes. Having a few sides or desserts brought can be a huge help! You might end up with some new recipes too!
Buffet or sit down – If you are having a large group, go with a buffet – it just makes life easier to put out one platter of turkey than 4 separate ones! Have a warming tray out to keep food hot and set up the buffet line away from the tables for sitting if at all possible to keep traffic flowing. However, if you are having a small group, glam it up and sit down and start passing the platters! Now the cook can relax too!
Get the kids involved – Children love to help out and it can be a great learning experience for them. Based on their age give them tasks they can assist with to make the party a success. Setting the table, putting up decorations or making fun, kid friendly desserts or appetizers are great activities to keep kids engaged – and out of trouble!
Most importantly, have fun and remember, it's not about being perfect, it's about enjoying this special time of year with the people you love!