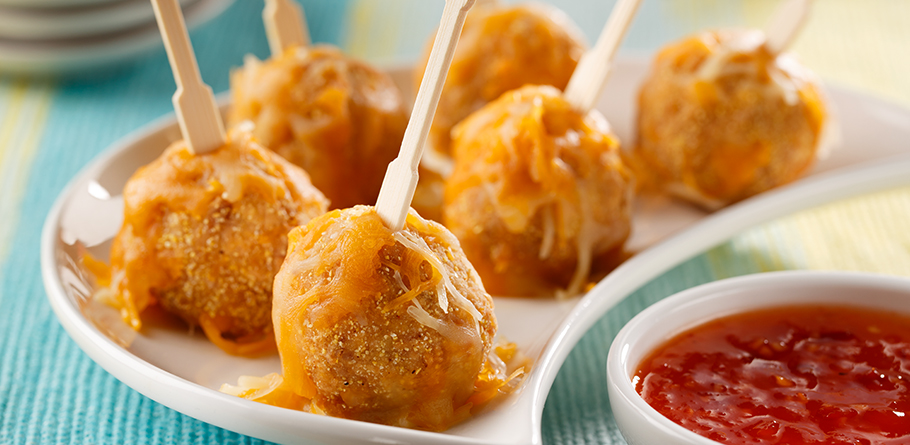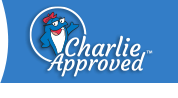 Liven up your next party with these fun pops! Kids and adults will love them.
Ingredients:
Tuna Mixture: 2 (2.6 oz.) Pouches - Tuna Creations® Hickory Smoked
Tuna Mixture: 1 egg, beaten
Tuna Mixture: 2 Tbsp. medium-grain cornmeal
Tuna Mixture: 1Tbsp. all-purpose flour
Tuna Mixture: 2 Tbsp. Colby-Jack cheese, finely shredded + 1⁄2 cup cheese
Breading: 1⁄4 cup medium-grain cornmeal
Breading: 1⁄4 cup all-purpose flour
Breading: 1⁄2 tsp. cayenne pepper
Peanut oil
Short bamboo skewers
Directions:
Break tuna up in a medium bowl. Mix in egg, 2 Tbsp. cornmeal, 1 Tbsp. flour, and 2Tbsp. cheese and mix together well. Mixture will be slightly "wet."
Place remaining cornmeal, flour and cayenne pepper on a plate and mix well. On a second plate put remaining 1⁄2 cup cheese.
Make balls out of ~1 – 2 Tbsp. of the tuna mixture and roll in the cornmeal mixture.
Place about 1 inch of oil in a heavy-bottom sauté pan and heat over medium-high heat. Once sizzling hot, gently place tuna balls in the oil and cook for about 1 – 1-1/2 minutes, turning to brown all sides.
When brown, remove from hot oil carefully and roll in cheese to coat the tuna ball. When cooled enough to touch, place a skewer in one end of the ball (don't go all the way through) and arrange on a plate or dish.
Recipe Nutrition Information
When using 2 (2.6 oz.) Pouches - Tuna Creations® Hickory Smoked
Nutrition Info
Servings Per Container: 10
Serving Size: 1 pop
Amount Per Serving
DV%*
Calories
150
Total Fat
11g
Saturated Fat
3g
Trans Fat
0g
Cholesterol
35mg
Sodium
135mg
Total Carbohydrate
7g
Dietary Fiber
1g
Total Sugars
3g
Protein
6g
Vitamin A
2%
Vitamin C
0%
Calcium
6%
Iron
4%
*The % Daily Value tells you how much a nutrient in a serving of food contributes to a daily diet. 2,000 calories a day is used for general nutrition advice.